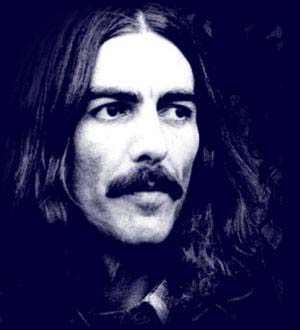 A perspective on the passing of George Harrison 
By Mark Cromer
George Harrison, who in 58 reasonable years morphed from skiffle freak to rockabilly plucker to grassed-up modster to acid-wheeling merryman to hippie child of God to earnest rock activist to burned out '70s casualty to sad '80s "come back" attempt to eccentric '90s Howard Hughes, is dead.
Of course, you know this.
As far as deaths go, especially of the rock-n-roll variety, it was a quiet passing, one as predictable and mundane, perhaps, as the rocker-turned-recluse who died. No shotgun blast or plane crash to catapult him into the Great Beyond. No bloated corpse found floating in the tub or hunched over the toilet to feed the tabloid blood and cum lust.
It will not, twenty years from now, resonate with the same punch of clarity that John Lennon's murder will, or easily spring from our collective newsreel of memory like so many other pivotal events that have shaped our Boomer-plus lives: Black September at the Munich games, Nixon's final trot across the South Lawn, the fall of Saigon and the helicopter evacuation of the embassy, the Hostages in Tehran and John Hinkley's five seconds of fame with Ronald Reagan.
And yet I feel as if there is something great, something deeply important, that has been lost with the end of the life of George Harrison. 

Perhaps it was the nagging feeling I had, as I watched the pre-programmed, ubber-coiffed automatons who pass as television 'journalists' these days 'report' (in team coverage!) on Harrison's death. Whatever ethereal plane George is coasting on now, I hope to hell he didn't tune in for the orgy of revisionism, predictability and utter tripe that passed for reflections of his life and the message of his music.
Channel after channel aired the same stock footage, much of it bad quality mush of the other Beatles, with the same generic voice-over in a typical TV news narrative: "He was the Quiet Beatle. The spiritual one. The band's most accomplished musician. The anchor of the band's sound and the visionary who led the legendary quartet to India. He was often hailed as keeping the band together for as long as they were….blah blah blah."
Only local LA anchor Chuck Henry could have fucked it up in a more trivial fashion and in fact I am sure he did, though I could not bear to watch it. I thought about tuning into Jim Ladd tonight, but I actually fear his take on it as well. He'll probably nail it, or come close, but he'll take it over the top and start referring to Jim Morrison and Roger Waters and then start reciting lyrics like they were poems he actually wrote and it will all be too much to handle.
But the real massacre was on TV today. They killed Harrison all over again and then resurrected him for the Christmas season rush—the compilation of Greatest Hits and Rarities packages started the second he flat-lined, just ask Capitol Records, they probably had a marketing man near the deathbed working on quotes for the liner notes.
History is always subject to interpretation, but television carried out a whitewash so fast and furious of Harrison today that it was truly epic in its shallow dimensions. And it is a damning indictment of our nano-second attention span culture. They fucked it up and hardly anyone really knows or better yet cares.
The fact that Harrison was a solid guitar player at best—by almost any objective account—who played the role of reliable work horse within the band, a la Ringo (who now tours Indian Casinos). To say that Lennon and Paul McCartney outshined him in the band is to be polite and clearly generous, with even Lennon offering his characteristically unflinching assessment that Harrison "just wasn't in the same league" as he and McCartney. In fact, throughout the band's recording history, Lennon and McCartney often played lead guitar on many of the tracks. Yet today, we heard some TV reporters proclaim Harrison as the "musical anchor" of the group.
His post-Beatles work was hit and miss at the very best, with his later 1970s offerings almost universally bombing critically and commercially. Does anyone remember his album "Gone Tropo?" I didn't think so and he probably tried to forget it too. He was sued for plagiarism over his biggest solo hit and his much touted Concerts for Bangladesh became the standard for how NOT TO stage a benefit show, though the resulting triple album shines.
Like his idol Bob Dylan, Harrison eventually sank into semi-paranoid seclusion, berating America at times for its violence and carnality, yet oddly never thanking us for paying the mortgage on all those mansions he owned. 

His 1987 "come back" album Cloud Nine was a pure pedestrian effort and his last tour, an abbreviated hop across Japan in the early 1990s, found him on stage strumming an acoustic guitar that wasn't plugged in, leaving the real guitar work to a benevolent Eric Clapton. Now that's the hard, cold reality.
At least Ringo knows he is washed up and is having fun with it, witness the single off his last pathetic album, aptly entitled "La De Da." His first All-Starr Band sold-out multiple shows at The Greek Theater and featured Joe Walsh, Levon Helm, Billy Preston, Nils Lofgren and Rick Danko. While the last disastrous lineup was reduced to roster of Howard "Who?" Jones and Sheila E. and they were booked mostly at casinos and county fairs.
What's stunning is the growing corps of mannequins who are paid to mostly read lines but occasionally try to actually muster thoughts on television—they don't know and don't care about odd details that add depth, nuance and, oh, say, facts, to a news obituary. And why should they, when porn stars like Britney Spears and J. bLow and their Dirty Jazzercize on the New Plantation of MTV passes for "rock n' roll" to these brilliant pundits. Oh Lester Bangs, what happened?
Well, I did come here to praise George actually, and not bury him, so I guess I just find it sad that the one thing he did give us has been essentially ignored: Harrison was perhaps the best example of a man who at the highest point in rock's stratosphere, recoiled at the excess of its loot, larceny and lust without being compelled by any near-death experience and turned deep inside himself for answers.
He truly sought God, in whatever image we may accept/envision Him, Her or It.
It wasn't a ploy or a phase and it surely wasn't too cool (the TV clones haven't mentioned in the post-mortems how concert-goers booed and bailed when Harrison started preaching to them from stage during his brief 1974 solo tour of the U.S. with hit-maker Ravi Shankar), but he set about his spiritual quest and kept at it, apparently, until yesterday afternoon. 

That a man who had the physical world at his finger tips, and his finger tips undoubtedly reeked of his physical triumphs, would decide to seek greater enlightenment and stick with it, casting off the media yoke of Beatle George, well, I admire that in spite of whatever else.
As the "special reports" continued, every monkey hired to sit behind a news desk rolled tape of Harrison crooning "My Sweet Lord." What a surprise.
It's just a shame they don't know another little ditty he penned and recorded in 1970:
"There'll come a time when all of us
must leave here
then nothing Sister Mary can do
will keep me here with you
As nothing in this life I've been trying
can equal or surpass the Art of Dying…
There'll come a time when all your
hopes are fading
when things that seemed so very plain
become an awful pain
searching for the truth among the lying
and answered when you learn the Art of Dying
There'll come a time when most of us
return here
brought back by our desire to be
a perfect entity
living through a million years of crying
until you've realized the Art of Dying."
Well, I hope George finally mastered the art of dying, lest he find himself back on a planet where news reporters offer furrowed-brow attempts at reflection on his message of spirituality—just before the network cuts to a reality show promo of people eating maggots.