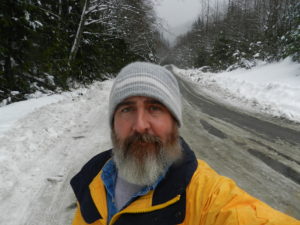 The Cromer Reader is an ongoing collection of work from Los Angeles/Seattle-based journalist Mark Cromer, who has written professionally for more than three decades about culture, crime, politics, population growth and sex in the fading twilight of American babylon.
The Cromer Reader features a selection of his work on various subjects throughout the years as well as new stories, columns and essays, with regular updates posted in The Daily Read and longer feature reads posted in The Weekly Read. 
Selections of his freewheeling correspondence, which became the subject of some notoriety among his journalistic circles in Los Angeles throughout the years, are featured in Dispatches From The Edge and will be updated as he gets around to it.
Cromer's work has been published in newspapers and magazines around the world, from the Houston Chronicle, San Francisco Chronicle, San Diego Union-Tribune, the Orange County Register, the LA Weekly, the Los Angeles Daily News, Los Angeles City Beat, the Los Angeles Daily Journal and the Los Angeles Times to The New York Daily News, Washington Times, Charlotte Observer and the South Florida Sun-Sentinel to The Gulf Times in Qatar; from Bikini, HUSTLER, Details, Real Clear Politics, Adult Video News, Artillery, Rehab Management and The Nation to MAX in Paris and The Sunday Sport in London.
In 1988 he co-founded Low Magazine at the California State Polytechnic University, Pomona, and was the publisher/editor of the independent student magazine for its decade-long lifespan, growing it from a first press run of 100 copies until he folded it at its circulation zenith of 20,000 copies that covered eight universities across Southern California and Northern Arizona. Among the upstart magazine's many achievements, The New York Times published Low Magazine's original cover photo of Timothy Leary on the front page of its national edition obituary of the counterculture icon in 1996.
Cromer was one of the first mainstream journalists to cover the commercial pornography industry as something bigger and more culturally relevant than the ongoing 'vice' angle newspapers had long presented it. His work led to the Frontline documentary American Porn and it featured his perspective. He was also the first reporter to investigate closeted gay Congressman David Dreier's anti-gay voting record and he was featured prominently in Academy Award-nominated Kirby Dick's feature documentary Outrage. Cromer's work on mass immigration and overpopulation issues has been featured on CNN, PBS, CBS, KFI, the George Putnam Show and the Rush Limbaugh radio show and he appears in the documentary Growth Busters. His groundbreaking reporting on the 1998 HIV outbreak in the Los Angeles porn industry was featured in the documentary Porndemic that premiered on Showtime in the fall of 2018.